We've all been there. Getting distracted while cooking for one reason or another. When your attention turns back to the cooktop you realize the food is stuck to the pan, leaving a thick layer of burnt food.  Don't you wish you had good quality non stick cookware?
We'll review features of the Circulon Symmetry Anodized Nonstick 11 Piece Cook Set.
We've included the Circulon range in our reviews because it meets our criteria as one of the best non-stick induction cookware sets offering value for money. Below are another 5 good reasons for inclusion of this cookset.
We also give you an overview of what people who have purchased this cookset had to say about their overall experience with it. And our recommendation.
About the Product
The Circulon Symmetry Anodized Nonstick 11 Piece Cook Set features everything that a home cook needs to create delicious meals. In this set you'll receive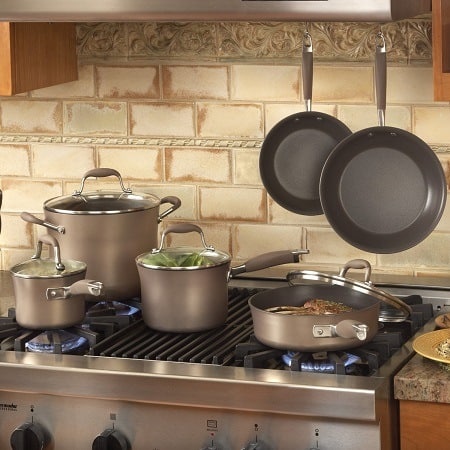 Each piece in this set features hard anodized aluminium construction. This is 2x times stronger than stainless steel. Durable and made to last.
The stainless steel base with an aluminium core is an excellent conductor of heat and means that you can use these pots and pans on any type of cooking surface. Even an induction cooktop.
Unlike other non-stick pans you might come across, the non-stick surfaces on these pans aren't easily damaged if you use metal utensils.
They feature a non-stick coating, both inside and outside called the 'TOTAL Nonstick System', which reduces surface abrasion and offers food releasing capabilities that minimizes food sticking to the pan.
Is the non-stick coating Circulon uses safe?
The non-stick coating is PFOA free, Lead Free and Cadmium Free. Regulatory agencies worldwide have found that PTFE manufactured without the component PFOA presents no risk to consumers and it's been in the market for over 70 years. Circulon's Total ® non-stick system uses only technologies to make PTFE non stick without PFOA (perfluoroctanoic acid) making the product completely safe and non-toxic.
What Reviews Reveal

We've checked across the web and found more than 500 people who have purchased this product have taken the time to review the product. Impressively 90% of people give the Circulon Symmetry a rating of 4 stars and more and 78% a 5 star rating.
When we research the opinion of users of the product the overwhelming majority of consumers report positively.
Pros: 90% of people who use this range report that the non-stick coating works well. Living up to claims by the manufacturer that the product provides 'extraordinary food release'.
They also appreciate that the non-stick coating makes clean up a breeze, especially for food items that are normally difficult to clean, like scrambled eggs.
Customers note that the pans cook food evenly. The pans distribute heat evenly throughout, thanks to the heavy base.
The pans are surprisingly lightweight, despite the heavy base.
While the cookware is dishwasher safe, they're incredibly easy to clean by hand.
Cons:  There are a few who have been disappointed with their purchase for one reason or another.
This is generally because they thought the pans were smaller than they expected.
*Make sure you check the size of the pans meet your needs and cooking style in the product description.
Other customers reported that the non-stick coating on their pans scratched up easily, and began chipping only after 10 months of regular use, or that the non-stick coating didn't hold up to moderate cleaning. We noted that it was reported that they tried contacting Circulon and felt the customer service at that time was disappointing.
Care suggestions
Although these pots and pans can withstand tough treatment and can be cleaned in the dishwasher, the non-stick qualities make them very easy and quick to hand wash. Hand washing pots and pans extends the life of non-stick coated cookware.
We also suggest instead of using metal utensils use wooden, silicone or plastic to maintain optimum non stick qualities and avoid scratches.
The Last Word

Cooking is something that we all have to do in order to survive. You can only eat out so many times before it becomes a burden on your wallet and your health. We just want to make cooking as easy and convenient as possible.
With this Circulon Nonstick cook set, the TOTAL Food Release system is designed so food doesn't stick to the bottoms of the pots and pans.
Not only can you cook your food without cooking spray, but the non-stick coating makes clean up a breeze.
Circulon pans feature a heavy bottom that will evenly distribute the heat throughout the pan. Because of this heavy base your food is cooked evenly without experiencing any hotspots.
The cookware is designed to be used on any cooking surface, be it a gas stove, electric, or even induction cooktops.
You can also put the pans into the oven (up to 400º F) to finish off your cooking without having to transfer to another dish.
We believe that any home cook would benefit from this cookware set. The versatility of these pots mean you'll get a lot of use out of them for years to come.
However if you should experience any problems you've got the back up of the manufacturer's warranty.
For a non-stick cookware set, this represents awesome value.